It's that time again – Funny Friday! Anyone who has spent a considerable amount of time searching for quality Christian entertainment knows that B-grade Christian movies exist in abundance…and continue to be released! We here at BOR are well aware that many filmmakers struggle to raise money to support their dreams, however, we have also observed that some movies never needed to be made. It is these movies that are parodied below. Most or all of the following films can be found in the bowels of streaming services, on Pureflix.com, or for free on various websites (if you know what I mean). Enjoy!
The Cliffs of Insanity
Two words. Love Different. No one has made a movie like this to date. Let me break it down for those of you who haven't watched it. There's this single 'white' girl see, and she has a son. She applies for a job at a 'black' company who only has 'black' employees. This leads to many new experiences for white girl. From zany grocery store trips ending in her being carried out by her new black friend, to many scenes of awkward characters dancing and singing to their bathroom mirror while balancing toiletries on various appendages, this movie has a little something for everyone. Here's the viewing experience you can expect while watching Love Different:
Jenn Gotzon is dancing in the bathroom mirror, audience's response:
Anthony Hackett is rapping a song about lotion while looking in the bathroom mirror, audience's response: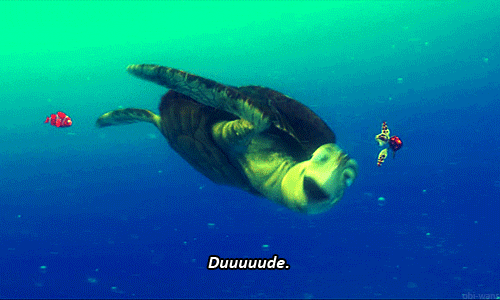 Pan to Jenn Gotzon ranting about food stamps in a very awkwardly expressive manner at the grocery store, Anthony Hackett is busy laughing and making off-color racial jokes and bumps into her at the counter (panicky breaths):
But we can't forget another big category of Christian movies – end times movies. Oh yes, we're going there. Perhaps the most unusual one we've ever reviewed here to date is Sunday Morning Rapture. Basically you go from your average introduction to multiple characters to complete and utter mayhem…you guessed it, the RAPTURE. Pan to shaking furniture, explosions, car crashes, and people watching news on every possible channel available in the universal cable TV package especially made for this film. And then…the cliffs of insanity. Pan to people in church rolling in the isles (literally) and throwing themselves at the altar in some attempt to bring back those who were RAPTURED, viewer's response:
Inconceivable
These films are easily recognized and can be identified by their zany, unusual, off-color, or just plain weird qualities. Obviously the most inconceivable movie in this category is yours truly, The Rev, we have honestly seen nothing like this film to date. Basically it goes from: Yo, three old guys are sittin' on a bench reminiscing about the good ol' days. Oh hey! Remember that one time…awkward thirty/forty-something white man appears on screen in a Walmart Elvis suit and eventually starts driving the movie donor's convertible around (where is that music coming from?). Then he starts picking up random people off the road, including a suicidal has-been singer and a 'prostitute' in a Party City costume. Somewhere in there we have singing and dancing sequences I've wiped from my memory. This movie is like used chewing gum in your hair – you can cut it out, but you'll never forget it.
Another movie that really deserves to be here is Tommy Blaze's finest work, Me Again. If you want to watch a movie where the most insecure white man ever goes on a zany psychological journey in which he becomes an old chain restaurant owner with a bad heart, this same guy's female housekeeper, an anorexic female model addicted to drugs, (it gets better) his own wife, a female baby, a goldfish, and his daughter's boyfriend (perhaps his most fitting role)….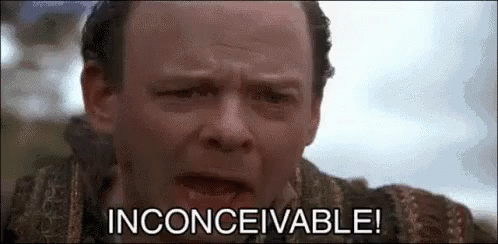 …..then this one is for you.
What in the world can that be?
These movies usually feature a random appearance of an unexpected feature that in no way fits with the rest of the film.
You know when you're watching a Christian movie that is either totes boring, mediocre, pushing an agenda, or average with some obvious production errors, when all of the sudden….is that a PEZ dispenser?
(radio silence)
If you don't know which movie that generic gray-haired man was on, then I'll leave it for you to search out on your own. Let's just say he's from a movie that is so bad it made it into two categories in this post.
As if the chicken man isn't enough, there's one more finalist here that we couldn't resist featuring. The Adventures of Chris Fable . In some way, this film is trying to portray John Bunyan's Pilgrim's Progress….but we're not sure how or why. You see, Chris is just a downtrodden boy….who suddenly is called to go on a journey that will change his life forever! "On their way to freedom," he and his companions "encounter weird looking bugs, loud noises, shaking trees, a freaky CGI city, and a giant stomping robot." (our founder, 2017). While watching, you will soon ask: "Will I ever make it out of this movie?"
Yes, you're very smart. Shut up.
Recent evidence has shown that this category extends to both movies and series. For instance, Peculiar season 1. What in the name of wet sandwich bread is going on here? This one has it all: Oh I'm just the average Christian kid who wants to protect himself from the big bad world by going to a Christian university…but can't get in. This sticks me with going to a secular school who….has. no. sports. Oh no, now I have a sports-related injury and an evil atheist professor out to persecute me! What do I do? Why, sing, dance, and make weird jokes of course (in-between staged debates in front of the entire class with said professor). These parts of the movie will lead anyone with sanity to ask "Are you finished?" To which the professor will respond:
And when the student finally defeats the atheist professor, a fellow college student on a campus far, far, away will suddenly turn around and say to the camera:
Its obvious which movies fit in this category. For instance, A Matter of Faith, God's Not Dead, and End of the Harvest .
I don't think it means what you think it means
This post wouldn't be complete if we didn't take a look at the very best that B-grade Christian films have to offer: human trafficking, pro-life, and time travel films. First up, what do you get when you mix a few big-name Christian actors with an agenda-pushing storyline? Answer: Caged No More! Oh my word, this one is a real doozy. If you don't get tired fast enough of Kevin Sorbo playing twin brothers (one with a fake British/Australian accent), trumped up action scenes, or pass out from boredom, Aggie's voice will do the trick.
If you finish watching Caged No More, you are really committed to the cause and deserve to watch Alison's Choice! Otherwise known as the worst pro-life film to date. Here's what you've got: Bruce Marchiano playing himself a janitor with a Jesus impersonation complex, a pregnant teen who sees visions of her CGI unborn child at the touch of said janitor's hand, off-color racial 'comedy', and the 'black female' character. This agenda-pushing plotline is frequently punctuated with the phrase "choose life!"
We've saved the best for last: Time Changer. If ever there were a time travel movie that would go down as the absolute worst, this is it. Let's start out with a freeze frame from the film:
'Nuff said. Here's the skinny: a seminary professor writes a textbook that doesn't align with the morals displayed by Christ. His punishment? Travel into the future and be horrified at every turn by how terrible the world has become! Women wearing provocative clothing! Teenagers flushing their lives down the toilet! Matriarchy! Immorality! Card playing! Dancing…in church!!!
Somewhere in there he jumps around from past, present, and future, and somehow gets back to the present in the pursuit of finding the end of time. How did he get here, there, and everywhere?
That pretty much sums it up!
No more rhymes, I mean it!
You know when you're watching a Christian 'comedy' and it either turns out to be completely weird, funny for all the wrong reasons, or so stupid that you can't finish it? Well, this movie takes it to a whole 'nother level: Spent The best summation I can come up with for this film without giving too much away is this: Dad's dying, let's get his money (evil laugh). Oh wait, he's not actually dying….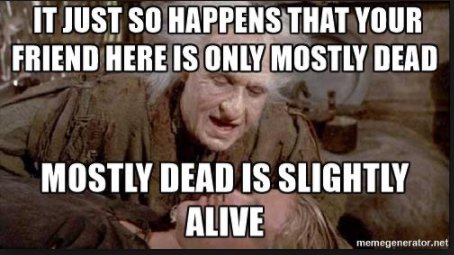 Ok, so since he's not going to die naturally, time to come up with a backup plan! Hehehehehehehe. Hey Dad, guess what's for dinner? Your favorite! Pizza pie! (waits while he eats it) Did you like it? Yeah it was (interruption) Well good, cause it was your LAST MEAL
But we haven't even talked about Malibu Dan the Family Man Season 1 (it has two seasons!) or Hitting the Breaks! If you don't know what this is, all you need to know is this. In the gif below, the protagonist in these absurd series is Buzz, and the audience is Woody.
To conclude, to anyone reading this who is offended in any way, please know that this post is meant in fun and is not intended to shame or humiliate anyone. Current Christian filmmakers, if God was in the movie you were making, and you were not just doing it to please someone else or yourself, the audience and us will know. See our Hall of Fame for movies fitting this criteria.:)