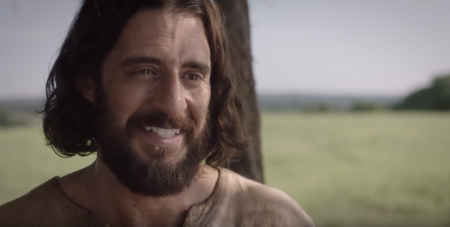 The Chosen has certainly already been a transformational series, and it's barely gotten off the ground. It has grassroots appeal and will likely grow into a larger and larger movement as time goes on. As the first multi-season Bible series to be created, it has the potential reach beyond traditional Christian audiences and transform the culture both inside and outside the church. The series' connections with real people in a Jewish cultural context as they encounter the Messiah are its biggest assets, so here's a helpful guide to help keep up with the core subplots we've seen through episode eight of the first season.
***WARNING: SPOILERS AHEAD***
Simon, Andrew, Eden, and Dasha

In the second half of Season 1, we saw Simon and his family taking more center-stage than they previously were. Simon consistently tried to assert himself as a protector of Jesus and a leader of the other disciples, including trying to be gatekeeper for who could and could not have access to his Rabbi. At the same time, Simon tried to hide the illness of Dasha, his mother-in-law, from Jesus. However, despite her mother's sickness, Eden was glad for the turn of events in her husband's life and formed a special connection with Jesus. Simon and Eden appear to have rekindled their romance with each other. Andrew continued to play a background role for his brother, his sister-in-law, and his new teacher; he wanted to protect Jesus as much as Simon did, but Andrew showed he was a faster learner than his brother was. In the end, Jesus healed Dasha's malady, and Simon was forced to accept new things that were previously foreign to his culture, such as interacting with tax collectors and Samaritans.

Thus far, Simon, Andrew, Eden, and Dasha have either directly or indirectly crossed paths with Jesus and with all of the other current disciples and their families, with the exception of Matthew's family. Simon and Andrew have additionally interacted with Jesus' mother Mary and some of her close friends. Thus far, Eden and Dasha have only been seen in Galilee while the brothers have been seen there as well as Samaria.
Matthew, Gauis, Quintus, and Matthew's parents
Matthew's storyline and his related characters, including his parents, Gaius, and Quintus, have also been given more focus than before. Throughout the latter four episodes of Season 1, Matthew was consistently distracted and confused by the fish miracle he witnessed at the end of Episode 4, which was something that defied reality and could not be explained by his logical way of thinking. Thus, this drove him to seek answers from anyone who would listen; when his superiors passed it off as a trick, Matthew tried to get closer to Jesus and His disciples but had difficulty doing so. However, after witnessing the miracle of the walking paralytic and not receiving answers from a visit to his mother, Matthew made his decision and followed Jesus when the Messiah passed by his tax collector's booth. The new disciple left his affluent lifestyle behind and began chronicling what he saw. Gaius, his former bodyguard, was stunned at this decision because he had developed an attachment to Matthew and had previously been awarded a military promotion due to the tax collector's work. Gaius relayed Matthew's desertion to his superior, Quintus; Gaius also took Matthew's dog to Matthew's parents since the former tax collector had asked that he take the pet there to protect his parents' business from thieves. Upon hearing of Matthew's resignation, Quintus became angry and made it his goal to find Jesus, especially since Quintus was already frustrated about Jesus drawing a crowd at Zebedee's and Salome's house, which disrupted the arrival of an important Roman official who was Quintus' childhood rival. Before this, Quintus had assigned Nicodemus to meet with Jesus to find out His angle.
At this point, Matthew has encountered Jesus and all the current disciples besides interacting with his parents, Gaius, and Quintus. Gaius has also crossed paths with Matthew, Matthew's parents, Quintus, and Jesus for a brief moment. Quintus has had contact with Matthew, Gaius, Nicodemus, and Zohora. Gaius and Quintus have only been seen around Galilee while Matthew has been in both Galilee and Samaria.
Nicodemus, Zohara, Shmuel, and Yussef
Nicodemus' and Zohara's subplot remained relatively stable throughout the second half of Season 1. Zohara consistently wanted to return home to Jerusalem in order to once again live their affluent lifestyle and to meet their new grandchild. However, Nicodemus was intent on remaining in Galilee until he had solved the mystery of Mary Magdalene's transformation. In pursuit of this goal, he interviewed John the Baptizer and went to the areas around Zebedee's and Salome's house just in time to see Mary Magdalene and to witness the healing of the paralytic. This led to Nicodemus begging Mary for an audience with her Rabbi. Mary agreed to ask Jesus, and later, Quintus demanded that Nicodemus seek a meeting with the mysterious teacher. Jesus agreed to the rendezvous and gave Nicodemus earth-shattering teaching about being born again and about saving the world from sin rather than from Rome. Nicodemus appeared to be converted to Jesus' cause, and the Rabbi told Nicodemus to follow Him by meeting Him at a designated well before they departed on their journey. However, as Nicodemus gave it some thought and as Zohara convinced him, the esteemed Pharisee decided against publicly aligning himself with the controversial teacher and instead provided money for their expedition. Elsewhere, Shmuel played a much larger role in the second half of this inaugural season as he developed a very legalistic stance on the enforcement of Jewish law in response to his mentor's (Nicodemus) possible openness to seemingly new ideas espoused by Jesus. As the season progressed, Shmuel became a more extreme character who may play a larger role in future seasons, especially since he has already directly interacted with Jesus at the healing of the paralytic. After using Old Testament passages to argue that John the Baptizer and Jesus were advocating heresy, Shmuel informed Nicodemus that he intended to make his mark on Pharisaical history by specializing in studying false prophecy, possibly in Jerusalem. Further, Yussef continued to be a minor character throughout this season as he remained in the background during major events like the healing of the paralytic. His most major contribution was discovering that Jesus was having a dinner party at Matthew's house.
Up to this point, Nicodemus has only interacted with Quintus, Shmuel, Yussef, John the Baptizer, Mary Magdalene, Andrew, and Jesus. Zohara has only had contact with Quintus and her husband. Shmuel has been seen with Nicodemus, Yussef, and Jesus. Yussef has interacted with Nicodemus, Shmuel, and Jesus. All of these characters have only been seen around Galilee up to this point.
James, John, Zebedee, and Salome
The second half of Season 1 also saw the expansion of focus on the Zebedee clan. James and John became more main characters, and the audience saw a new side of Zebedee, along with the introduction of his wife, Salome. James and John went with Jesus and the other disciples to the Cana wedding, where they witnessed Jesus' first public miracle. Then, they returned to their own home to watch the miracle of the paralytic unfold before them. Later, John accompanied Andrew to protect Jesus while their Rabbi met with Nicodemus under the cover of darkness. Further, James and John accompanied Jesus and the other disciples on the journey to Samaria, where they witnessed the Lord's interaction with Fortina at the well. Zebedee and Salome only interacted with Jesus and His disciples in their own home prior to seeing the paralyzed man healed after he was let down through their roof. Zebedee appears to have mended his relationship with Simon, which was previously tenuous after Simon's underhanded plans. Also, Salome has already developed a special attachment to Jesus.
Zebedee, Salome, James, and John have interconnected with Jesus and all His current disciples. Zebedee and Salome have only been seen in Galilee while their sons have been seen in both Galilee and Samaria.
Mary Magdalene, Thaddeus, and James son of Alphaeus
After being set free by Jesus, Mary Magdalene became a slightly secondary character as she began following the Messiah along with two other secondary characters, Thaddeus and James son of Alphaeus ("Little James"). They all attended the wedding at Cana, where Mary revealed a little bit about her past while Thaddeus disclosed that he had met Jesus while working on a construction project. In a private conversation, Thaddeus told Mary that he became a stonemason even though his father was a smith because Thaddeus liked the fact that chiseling stone was more final and once the first cut was made, the block would never be the same. Later, Little James disclosed to Simon that he was originally going to sing in a temple choir before Jesus called him.
Thus far, Mary's, Thaddeus', and Little James' storylines have all intersected with Jesus and with the other disciples. Mary has had personal contact with Nicodemus. Mary, Thaddeus, and Young James have all been seen in both Galilee and Samaria.
Thomas and Ramah
Thomas and Ramah were hired by Raphi and Dinah to oversee the preparation and distribution of food and wine at the Cana wedding. It seems to be implied that Thomas and Ramah are a couple and are running a business together. Once they arrived at the wedding, they discovered that there were far more guests than they had planned for and were soon running out of food and wine to keep everyone supplied. Thomas was extremely distraught at the situation since it would make him look bad. After dilution of the wine was a failed venture, Jesus' mother Mary alerted the Messiah to the plight, and He came to the aid of Thomas and Ramah. Jesus told Thomas to follow him so that He could show Thomas a new way to count and a new way to view time. Jesus wanted Thomas to meet Him in Samaria in twelve days. Thomas was very skeptical until he saw the result of Jesus' miracle of turning water into wine. Thomas did not think Jesus' directions would work, but Ramah was more than willing to supply the water for the miracle. When it was all over, Thomas told Ramah that he didn't know what to think about Jesus' offer, but Ramah told Thomas to not think for once.
Thomas and Ramah have only been seen in Galilee and have only directly interacted with Jesus, Mary the mother of Jesus, and Mary's friends.
Mary the mother of Jesus and her friends
Raphi and Dinah were implied to be longtime friends of Mary the mother of Jesus, which is why Mary agreed to assist them with their son's wedding in Cana. Mary had been previously introduced in the the Christmas pilot episode, and a flashback at the beginning of the Season 1's second half revealed a special connection Mary had with her Son. After inviting Jesus and His disciples to be her guests at the Cana wedding, Mary asked her Son to prevent her friends' embarrassment after the wine ran out.
Thus far, Mary and her friends have only been seen in Galilee, and they have only been seen with Jesus, Jesus' current disciples, and Thomas and Rama.
Other Characters and Notes
Blind man in the Red Quarter: Although we never saw the blind man from the Red Quarter in the second half of Season 1, but he may still appear again when Jesus and His disciples return to the area in later seasons.
Barnaby, Shula, Rivka, and Mary Magdalene's other friends: Barnaby, Shula, and Rivka had very small parts in Season 1's latter half as they asked Jesus questions while He was at Zebedee's and Salome's house and appeared at Matthew's dinner party. Abigail's parents (Mara and Eliel) also brought questions to the Rabbi. They will likely all return for more seasons, with Shula and Rivka possibly playing larger roles in the future.
Photina, Samaritan woman at Jacob's Well: Photina was introduced right at the end of Season 1 as Jesus and His disciples came to her Samaritan village. Jesus revealed to her that He was the Messiah, which prompted her to go tell others even though she was a social outcast due to living with a man who was not her husband and due to having multiple marriages and relationships throughout her life. It's implied that her story is not over yet, so she may be seen again in Season 2.
Abigail and friends: Abigail and her friend Joshua were seen outside of Zebedee's and Salome's home when they offered Matthew a front row seat to witnessing the miracle of the paralytic. It's likely that they will return in future seasons.
Tamar of Heliopolis and her friends: Tamar witnessed Jesus healing the leper, which prompted her to bring her paralyzed friend to Him at Zebedee's and Salome's house. She and her friends fought to get to the Teacher and let him down through the roof so that Jesus could heal the paralytic. Jesus commended her for her faith and her perseverance. It's highly possible that some people from this group of friends will be seen in other seasons.
Old Testament flashbacks: One of the arguably best elements of Season 1's second half was the use of Old Testament flashbacks to enhance storytelling. Thus far, the viewers have been shown Moses and Joshua as Moses fashioned the bronze serpent on the pole and Jacob and some of his sons as they dug what was later known as Jacob's Well. It's highly likely that this Old Testament flashback trend will continue in all seasons of The Chosen.