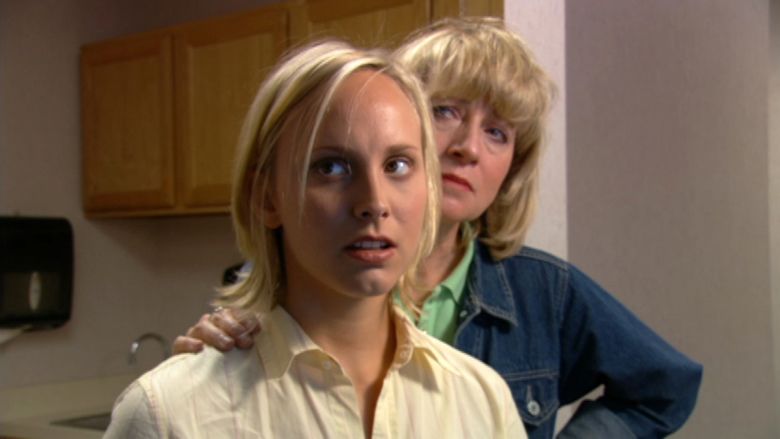 Plot Summary
Amy Newhouse had it all—a great family, a boyfriend she loved, and a mission from God.  She knew what God wanted her to do and believed she had a future in the international mission field.  However, God had other plans for her as Amy was diagnosed with cancer.  Through these trials, she had to learn to trust in God's sovereign plan and to discover the new ministry God was giving her, even when His plans didn't make sense.
Production Quality (1 point)
A Greater Yes was made right as the new era of Christian productions was beginning, so it is still a bit raw in parts.  Camera work is okay, as are video and audio quality, although all of these could have used a little 'sprucing' up.  The soundtrack is fairly stock, which is disappointing because a story like this needs a meaningful soundtrack to drive the point home.  Sets and locations are fairly limited, thus making for a somewhat cheap feel to the film.  Editing is also poor and leaves a lot to be desired.  There are too many musical montages that take away from useful content.  In the end, while it's clear that the team of Bradley Dorsey, Marshal Younger, and Clayton Miller meant well, this was just at the beginning of their careers.
Plot and Storyline Quality (1 point)
We love it when true stories are brought to life in film, but it seems like this plot did not really do the story of Amy Newhouse justice.  There is too much heavy-handed narration and off-screen content that takes the place of character-building and otherwise meaningful content.  The story also jumps all over the place, thus making it hard to follow.  While there are many realistic elements that can be connected back to real life, these characters need to be deeper so that we can connect with them better.  Their dialogue is too shallow as it is and needs fleshing out.  Overall, A Greater Yes has a powerful message that has great potential—it simply needs to be packaged differently.
Acting Quality (1 point)
This cast clearly meant well in their performances and were not putting anything on, as opposed to the practices of other PureFlix casts.  However, these cast members are sometimes too awkward and robotic in their emotions and line delivery.  They would have likely benefitted from improved coaching.
Conclusion
Every film maker has to start somewhere.  For Dorsey, Younger, and Miller, this was the start of a great career.  It's better to try something rather than try nothing, especially if you are going to learn from your mistakes.  Though A Greater Yes was a meager beginning, it has a meaningful story that many will enjoy.  It is also clear that this trio did learn from their rookie mistakes (especially Younger) and have gone on to do great things.  It just goes to show that if you honestly want to make a difference in film, find the right people to work with, and are willing and ready to improve with each new film, the sky is the limit for you.
Final Rating: 3 out of 10 points