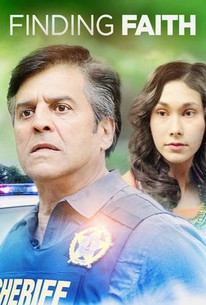 Plot Summary
When Faith gets too close to a 'boy' she met online but never met in real life, she never imagined the trouble it would cause her.  In one fateful moment, the stalker behind the fake profile kidnaps her as Faith's hometown descends into panic over the incident.  The local sheriff has a bone to pick with online stalkers, so he immerses himself into the case unlike any other.  What they find is a vast human trafficking scheme bigger than their small town.  Will they be able to find Faith before it's too late?
Production Quality (1 point)
As an early production for Liberty University and team, the quality of Finding Faith isn't really what it should be.  Video quality is okay, but camera work is randomly shaky.  Audio quality is also poor, even though the soundtrack is trying to be suspenseful.  Sets are okay, but locations and props are somewhat limited.  Editing is mostly average and still leaves something to be desired.  Overall, with many other people involved in this film, Liberty University took a step back with this production, and it's hard to see how it was justified.
Plot and Storyline Quality (.5 point)
Full of heavy-handed narration from Erik Estrada, the messaging of this story is certainly not subtle.  Yet at the same time, it's also full of dead air and wasted sequences.  It's a shame too, because this is an interesting and different idea with a meaningful message that needs to be shared.  However, the characters are so empty due to bland and vanilla dialogue that it's hard to relate to them as real people, only as cutouts playing a part.  There was so much that could have been done with this story—with better characters of course—but the writers only barely scratch the surface.  It's unfortunate to see ideas like this one fall so short of the mark.
Acting Quality (1 point)
Though this is a relatively large cast, they lack adequate coaching.  The cast members post very stiff and blank performances, but then again, they didn't have many lines to actually work with.  They also have their good moments, and it's not all bad, but any cast that includes Erik Estrada is always dominated by his odd demeanors and personas.  In the end, this film as a whole is mostly a disappointment.
Conclusion
The Liberty University team and the JC Films team always had big ideas and ambitions that rarely follow through and meet the expectations that are set for them.  They have plenty of resources and connections, but little to no creative screenwriting.  It seems to be consistently difficult for them to portray real people on the big screen, so it might be time for them to invest in some better writing.  Only then will they make the difference they want to make.
Final Rating: 2.5 out of 10 points