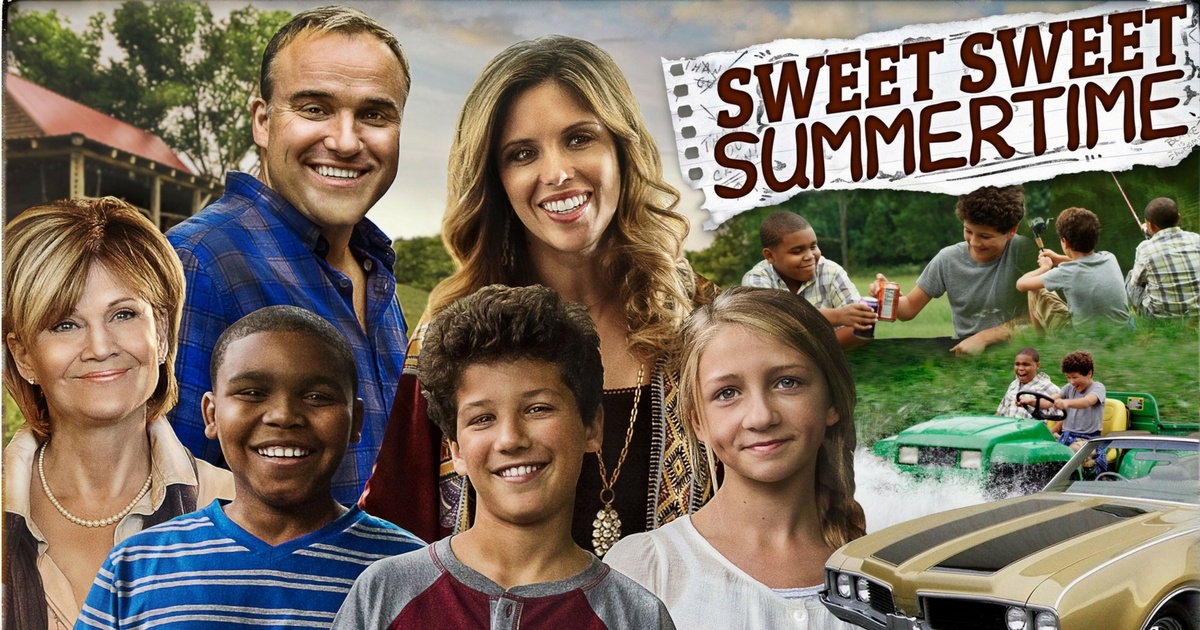 Plot Summary
After experiencing the tragic death of his beloved mother, Caleb Burns just wants everything to stay the same.  Everything does stay the same for a time, until Caleb's father announces that they will be moving from Franklin, Tennessee to Atlanta, Georgia after the summer is over.  Thus, Caleb and his friend Blake launch a summer master plan to not only do the things they want to do before the move, but to also try to convince Caleb's father to change his mind.  Caleb and Blake also start a club dedicated to Caleb's mom that does good deeds all around town.  Over the course of the summer, they learn more about themselves than they anticipated and discover just how much of a difference one summer can make.
Production Quality (2.5 points)
In keeping with their past reputation, Echolight Studios, along with its partners Triple Horse Studios and Abington Ridge Films, is certainly dedicated to building high-quality Christian productions.  Nearly every production element of Sweet Sweet Summertime is flawless.  Video quality, camera work, and audio quality are all highly professional.  The original soundtrack suits this film.  Sets, locations, and props are also very appropriate for this film and demonstrate quality.  The only negative production element to raise is the editing, as there are one too many montages and the advancement of time is a bit too rapid.  Yet, as always, this is a top-notch production that should be commonplace in all Christian films.
Plot and Storyline Quality (1 point)
Also in keeping with past trends, Echolight and their team tend to leave much to be desired when it comes to their plots.  Sweet Sweet Summertime is a fairly predictable and formulaic coming-of-age film that basically writes itself from beginning to end, yet the writers did the best they could with what they had, which is all we can ask.  There is too much unnecessary and heavy-handed narration that stunts character development, yet there is also dialogue that assists in making the characters realistic and accessible.  While this story has been done before, this rendition of it is certainly not as cheesy as it could have been and many audiences will find it enjoyable.  The ending is very rushed and tidy, yet there are plenty of viewers who will like it.  Overall, while we would have liked to see more creativity, at least this team put their best foot forward.
Acting Quality (3 points)
This is the sort of cast that we should see in every Christian film.  They are highly professional and well-coached.  Line delivery is flawless and emotions are very believable.  It is rare that you see a film with no acting errors in it, but Sweet Sweet Summertime is one of those films.
Conclusion
Echolight has solidified themselves as a reliably professional studio when it comes to production quality.  They also know how to assemble a respectable, error-free cast.  Yet time and again, Echolight plots tend to leave something to be desired by choosing pre-written storylines that lack creativity.  While films like Sweet Sweet Summertime will have some impact on its target audiences, it will unfortunately be easily forgotten in time.  In order to have a lasting impact in film, the plot must be dynamic.  The day that Echolight uses a dynamic plot will be the day that the Christian film world is turned upside down.
Final Rating: 6.5 out of 10 points