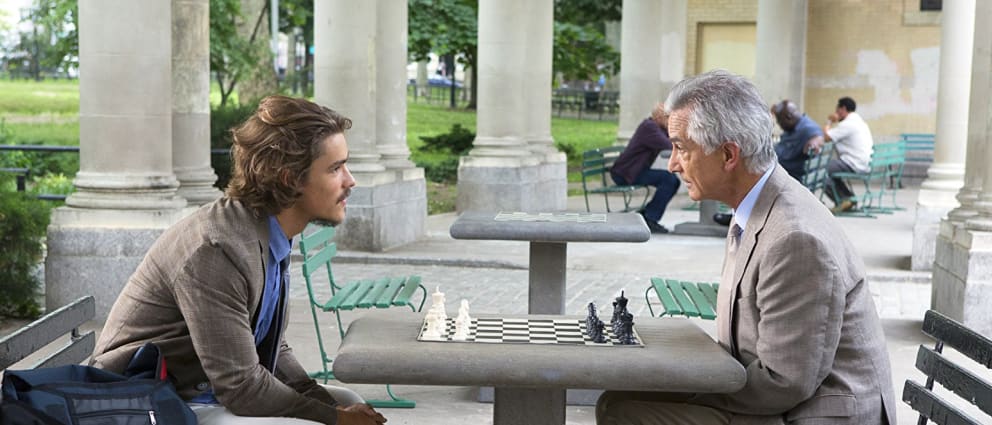 Plot Summary
Paul is a journalist who recently returned from Afghanistan, where he was reporting on the war effort there.  What he saw there changed him forever, and it sent him down a dark path as he began searching for the true meaning of life.  He began to question his childhood faith, and he asked God if He was even real.  However, Paul received an unexpected answer one day when he received a tip to interview God Himself.  Skeptical, Paul decides to follow the lead even though he is on paid leave.  What he discovers is unexpected and is destined to change his life forever.
Production Quality (3 points)
The Astute Films team is fresh on the scene, and they have put together a quality first-time production, which is a great way to start out.  It is clear that they put a lot of effort into making a high-quality production in An Interview With God.  This is evident in great video quality, camera work, and audio quality.  The soundtrack is creative, and the film has an overall artistic touch as a lot of work is put into establishing things without being too obvious.  Further, the sets, locations, and props are authentic and appropriate.  Finally, the editing is professional, which rounds out a basically perfect production effort.  With this film, the Astute team has sown great seeds for the future.
Plot and Storyline Quality (1 point)
On the surface, An Interview With God seems like another version of The Encounter or The Perfect Stranger, but upon closer look, this new film is much more.  Though the plot mostly centers around lengthy conversations, the dialogue is well-constructed and holds up the plot well.  The characters explore some great topics relating to the nature of reality and the work of God.  These philosophical conversations actually hold the attention because they seek to develop the characters as people rather than to throw worldviews at the audience.  The writers were not afraid to go deep with the characters by making them flawed and accessible.  The portrayal of God is also appropriate and intriguing.  Throughout the storyline, there are creative psychological elements that appear to be building towards a possible plot twist, but unfortunately, this seeming creativity never materializes, which leaves the ending to be a bit flat and disappointing.  The story tends to limp to a conclusion with too many unanswered questions after it had so much potential going for it, but even still, the remainder of the plot is good enough to lift this film to an overall good rating.
Acting Quality (3 points)
Though the cast of this film is very small, they carry the film strongly.  Each cast member portrays emotions effectively and carries his or her role very well.  Line delivery is on point, and it appears as though each cast member fits comfortably into his or her respective roles.  There are no flaws in this section, which is enough to lift An Interview With God to Hall of Fame status.
Conclusion
An Interview With God is one of 2018's surprise breakout films, and it comes from a creative team who is not afraid to get their name out there.  When a film maker crafts a project they are proud of and one that they are not afraid to share, this immediately shows a great mentality as a creator.  It is clear that great production and acting effort were put into this movie, even if the plot department was a little lacking.  Nevertheless, the effort was enough to breach the seven point threshold, and An Interview With God is a great start to a promising career that demonstrates great potential for the future.
Final Rating: 7 out of 10 points