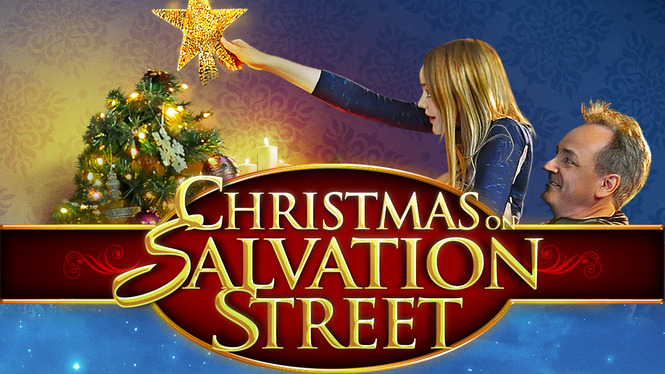 Plot Summary
After his wife dies, Noah Davis decides to accept the invitation of a friend to become the pastor of a California street mission that serves the poor.  One of his daughter objects to the idea, while the other one goes along with whatever he says.  While in the urban areas of southern California, the Davis family ministers to the forgotten and the lost and finds themselves in some harrowing situations with a local gang and some foster kids.
Production Quality (1.5 points)
For the most part, the production of Christmas on Salvation Street is average.  Video quality is good, but audio quality is inconsistent since it is sometimes too loud and sometimes has too many echoes.  Camera work is also good, but there are some cheap looking sets and limited locations.  However, there is improvement in these areas throughout the film.  The editing is also fine except for one too many montages and reused scenes.  On the whole, as previously mentioned, this production is average and definitely has some room for improvement.
Plot and Storyline Quality (.5 point)
At first, the story behind this movie is an interesting idea, but it is seemingly too vague at first.  It is difficult to understand the motivations of the characters as the plot tends to meander with no real focus.  The dialogue also tends to be a bit pedestrian.  Most of the time, Christmas on Salvation Street seems more like the installment of an already-existing series or the beginning of one rather than a standalone film.  While sometimes it is unserious, it is clear that the writers meant well with this film, even if the idea is incomplete.  It's also hard to see how this needed to be a Christmas film, and things tend to be too easily fixed in the end.  But at least there was an effort here to make it somewhat interesting.
Acting Quality (2 points)
Sometimes the cast members can be a bit too enthusiastic about their lines and emotions, but they settle in as the film progresses.  As time goes on, the cast members become more natural in their roles.  Emotions and lines, for the most part, are delivered effectively, which rounds out a nearly average film.
Conclusion
Films like Christmas on Salvation Street are problematic because they show potential to do more than actually deliver on.  Movies like this do not dwell in the basement of Christian film, but they are not in the top group either.  There are a lot of movies like this that don't quite go the distance, but perhaps one day, their creators will break through and change the film world with more quality movies.
Final Rating: 4 out of 10 points