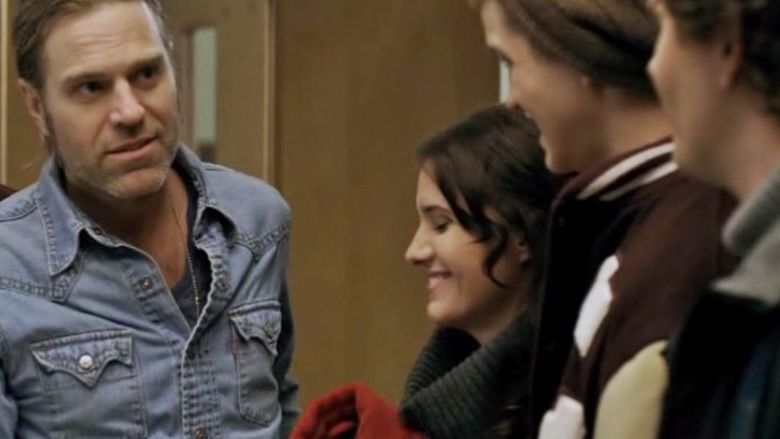 Plot Summary
When a tight-knit group of high school basketball players and fans is directly affected by a seemingly random drive-by shooting, they band together to discover the truth behind the evil deed.  However, unbeknownst to the others, one of them is holding a terrible secret that would affect his very life if he disclosed it.  But as the trail grows cold, will be speak the truth and risk it all to save his friends?
Production Quality (1.5 points)
The Frontier Boys starts off as a very raw and rough production, which is not characteristic of Echolight Studios.  Camera work is quite shaky at first and video quality is inconsistent.  However, audio quality is always good and the soundtrack is creative.  Sometimes lighting is randomly poor, but this and other productions elements at least improve as the movie goes on.  Sets, locations, and props are stable throughout the film, but for some reason it takes until the middle of video quality, camera work, and lighting to improve.  However, the editing is bit odd as it leaves too many lagging scenes and unexplained sequences.  Overall, this production is a roller coaster and probably should have been redone.
Plot and Storyline Quality (1.5 points)
The Frontier Boys is a rare circumstance in which the creative plot saves the film from total mediocrity.  Though it begins in a confusing fashion, the story becomes more interesting as it goes, even though it does take a while to get to the point.  Regardless, the characters are surprisingly well-developed through unique dialogue and realistic circumstances.  However, there are some typical sports and mystery story elements and sometimes it seems like the creativity of this suspense idea is not reaching its fullest potential.  It feels like this film was just a beta test because a lot of factors are too downplayed and not taken seriously enough.  Had they been taken more serious, this would be a whole different ballgame.  But in the end, though things tend to be fixed too easily in this plot, it is still a commendable effort and one that demonstrates story-writing talent, which is hard to come by in the Christian movie field.  Perhaps this talent will be utilized further in the future.
Acting Quality (2 points)
Though this cast is some off-putting and unusual at first, they work well together and assume their roles very well.  Line delivery is on-point and emotions are believable.  This is a professional casting job and one that should be replicated in the future.
Conclusion
There's really not a movie out there that's like The Frontier Boys.  It actually follows a non-typical plot structure and dabbles into an untapped genre.  If the production were upgraded and the plot even slightly improved, this would have been a Hall of Fame film.  Perhaps with the backing of Echolight, this creative team has a chance to really make a difference in the field, if they put their mind to it.
Final Rating: 5 out of 10 points