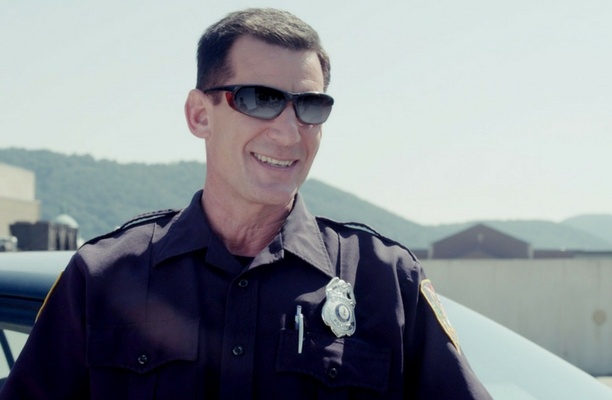 Plot Summary
Bryan Lawrence was a well-respected police officer who was caught in an unfortunately violent situation that ended with him becoming paralyzed.  However, through this very difficult situation, he fought to keep his optimism up as his family came around him and supported him.  Though it was deemed impossible, Bryan sought to walk again with the goal of walking his future daughter-in-law down the aisle.  Times were hard and sometimes he and his family felt like giving up, but his faith in God always kept him grounded.
Production Quality (2.5 points)
Badge of Faith is clearly a well-funded production with professional caliber video quality, camera work, and audio quality.  The soundtrack is somewhat generic but is respectable.  Sets, locations, and props are highly realistic and appropriate.  There is little negative to speak about here, except for the fact that the editing seems unfinished in that some scenes seem abruptly cut off before they're done.  However, despite this issue, this is a nearly perfect production that the creators should be proud of.
Plot and Storyline Quality (.5 point)
This story is a very inspiring real-life story, but one has to question how it is presented in this film.  As it is, the storyline is fairly boring and somewhat flat, even though there is a lot of potentially interesting content here.  For instance, there are too many montages that stunt character development.  Even though there are some good attempts at developing the characters through realistic dialogue, since there are not many characters and since this is a character-driven plot, we would have liked to see further development.  Though there are many pertinent and accessible issues explored in this film, the storyline overall lacks the necessary continuity and driving purpose that would make this movie dynamic.  Though the struggles of the characters can be appreciated, it feels like this is just a string of random sequences.  In the end, Stone Table Films knows how to find a realistic story and make a movie out of, but like Touched by Grace, the plot of Badge of Faith leaves something to be desired.
Acting Quality (3 points)
The acting is definitely the strongest point of this film.  The cast is highly professional and well-coached.  Each member is case highly appropriately.  Emotions are very realistic and line delivery is on point.  There are no errors to point out here.
Conclusion
It is certainly enjoyable and refreshing to watch the movies produced by the Stone Table team, but it is also frustrating to see the potential they left behind.  If Touched by Grace and Badge of Faith had slightly better plot improvement, each of these films would be on the Hall of Fame.  Yet the Stone Table team is continually improving, so there is great hope for their future.  We firmly believe they will keep trying until they finally get that blockbuster release.
Final Rating: 6 out of 10 points