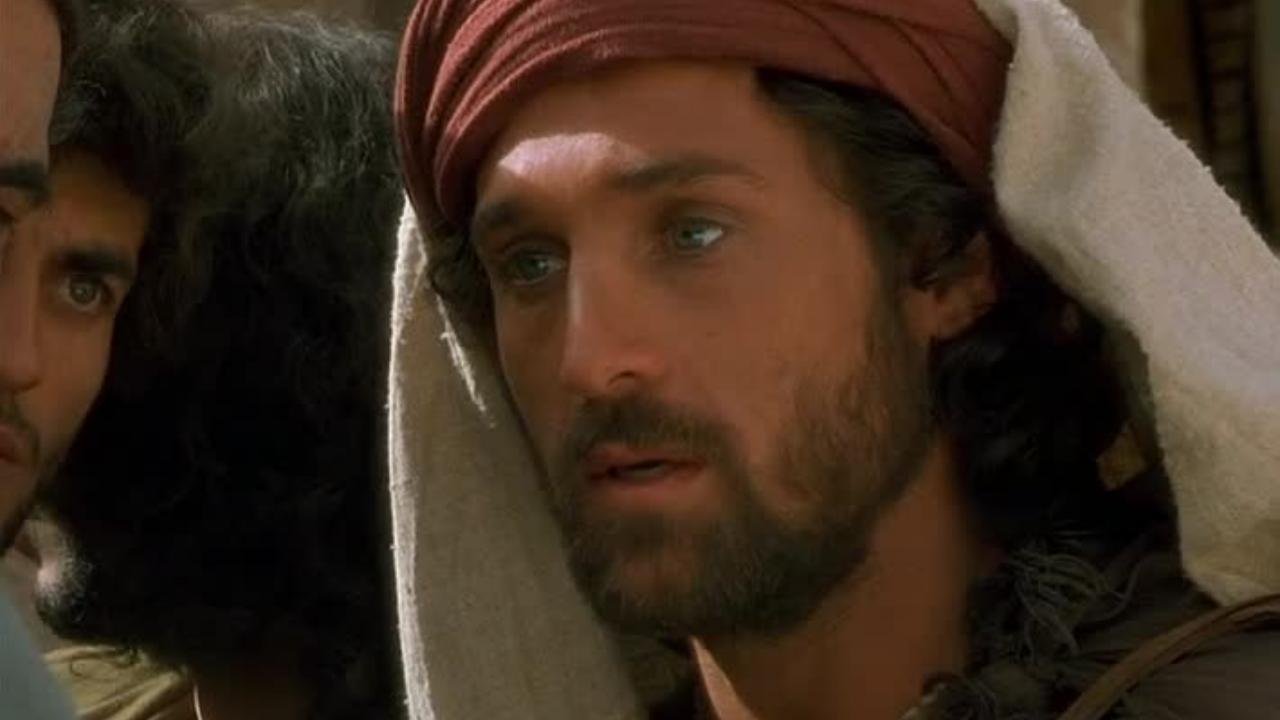 Plot Summary
Jeremiah grew up in the reign of Josiah, the last golden era for Judah as a nation.  As a young boy, God called him to be a prophet; however, he did not always accept this call.  As he grew, he knew he was destined to be a Levitical priest, but God gave him a message to tell the people that no one wanted to hear.  Jeremiah was persecuted for what he had to share and suffered terribly as Jerusalem's days were numbered by the Babylonian siege.  Yet through it all, God was with him as he carried out the Word of the Lord.
Production Quality (1.5 points)
For a late 1990s production, Jeremiah has plenty of good elements.  Affirm Films' older Bible movies were certainly not perfect, but they definitely showed good effort.  The biggest plus to this production pertains to the excellent sets, locations, and props, which all demonstrate historical authenticity and great attention to detail.  Video quality and audio quality are also what they should be, including an effective soundtrack.  However, there are some drawbacks to point out, such as weird lighting in some scenes for dramatic effect, quick and rapid time jumps, fast cuts and transitions.  Thus, this production is overall average, but this is very good considering the time period.
Plot and Storyline Quality (1 point)
Like too many other Bible movies like it, such as Affirm's rendition of Esther, Jeremiah tends to portray Biblical characters in a too lofty fashion through the use of odd and cumbersome dialogue styles.  It would be nice if Biblical characters were not so inaccessible and theater-like.  But nevertheless, this is an interesting and noteworthy portrayal of a different Biblical account that often goes unnoticed.  It's refreshing to see a different story, but at the same time, it is frustrating to watch because it had such potential that was wasted.
Acting Quality (1.5 points)
Much like the cumbersome dialogue, too often in this film, the cast members use weird, archaic annunciation, like this is a 1970s or older Bible film.  In a similar vein, a lot of the acting is too dramatic and theatrical at times, and too much of the line delivery is breathy.  While some cast members are culturally authentic, others are not, including several British people.  Yet there are plenty of good moments here and some cast members tend to improve throughout.  In the end, this rounds out a nearly average film.
Conclusion
It would be great to see this idea remade because it is a very interesting story that deserves to be portrayed.  Yet this movie can also serve as an example of how not to portray Biblical characters.  Audiences want to see people they can relate to, not lofty characters in a play.  The Bible needs to be brought to life in authentic and even gritty ways because it's real life and deserves to be portrayed that way.
Final Rating: 4 out of 10 pointsj