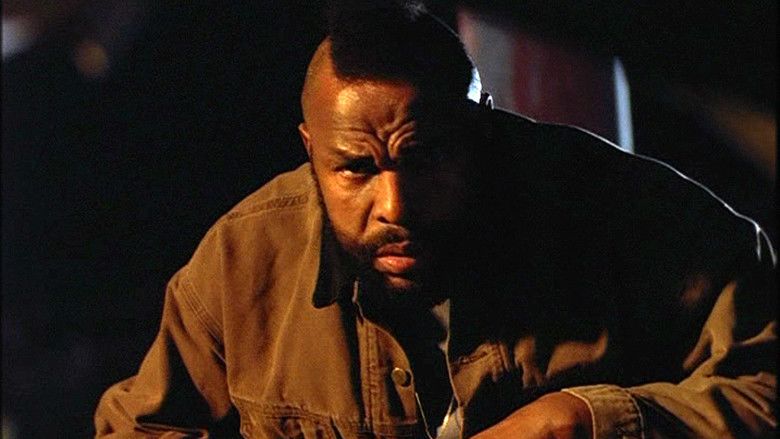 Plot Summary
As the ONE has tightened its grip on the world, Christianity is outlawed and everyone must take the Mark of world leader Franco Macalousso, or they will be arrested and possibly executed.  The world must worship Macalousso or be doomed.  But when the world leader feels that excitement about hating Christians is wearing thin, he decides to stage a televised trial for infamous Christian Helen Hannah to get people interested again.  Enigmatic defense lawyer Mitch Kendrick is recruited to 'defend' her, even though it's all staged.  But no one knows that Mitch is searching for the truth himself—will he be able to find it?
Production Quality (1 point)
As this stupid series finally grinds to a halt, we can say affirmatively that production quality barely changed throughout it.  While camera work and video quality have improved in this final installment, nothing else has.  The audio quality is inconsistent and the soundtrack is quite loud at times.  Sets, locations, and props, in an attempt to look 'futuristic', only come off as cheesy.  Finally, like the rest of the series, editing is quite poor.  On the bright side, there's no more product placements, but it's unacceptable to have a series this long with such bad production quality.
Plot and Storyline Quality (.5 point)
Was there really a justification for a fourth installment in this series that doesn't include anything about the subplots that were supposedly continued at the end of Tribulation?  Helen Hannah remains to be the central Christian character of the series for some reason, but otherwise we are introduced to even more characters we've never seen before, including Mr. T.  The same ridiculous concepts this series has always pushed are present in this final film as well, but this time transposed on top of a staged legal battle.  Dialogue does nothing for character development as a lot of time the is filled exploring vague and isolating concepts.  It seems like the writers are constantly inventing ways to kill time without actually helping us to get to know all these characters they shove at us.  Finally, though the end is slightly interesting and has some potential, it cuts off with an abrupt transition to the nonexistent fifth film they obviously wanted to make.  Thankfully, their funding was finally cut.
Acting Quality (.5 point)
As Corbin Bernsen and Mr. T join this crowded cast, things really do not improve.  There are too many over the top emotions and shouting sequences.  There is some potential with line delivery, and this cast seems professional on the surface, but it's just not good enough.  This is another disappointing effort.
Conclusion
Well, it's finally over.  What did we learn?  When you can't even create an average production, don't make four movies.  When you don't have any plot or character development to speak of, don't make four movies.  When you can't focus on a central story or character arc in your series and instead constantly come up with new characters and subplots with each installment, don't make four movies.  When you cast all kinds of 'big names' but don't bother to coach them, don't make four movies.  Are you seeing a theme here?  The Apocalypse series is just another blight on Christian film and will hopefully be forgotten one day, but at least we can learn something from it…I hope…
Final Rating: 2 out of 10 points