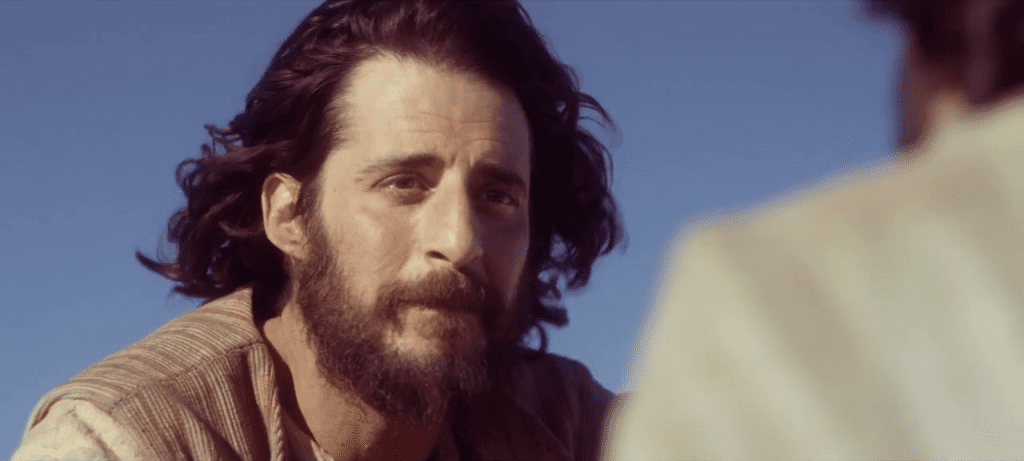 Plot Summary
When Jesus first began His earthly ministry, He had already chosen those He would minister to and use to transform the world around them. They came from all walks of life: lower class fishermen, upper class religious leaders, well-to-do tax collectors, and lowly street prostitutes. Regardless of background or belief, Christ determined to use regular people to carry out His work…however, it couldn't happen until they had life-altering experiences with Him.
Production Quality (2.5 points)
The highest independently crowdfunded effort in entertainment history has certainly paid off. There's no question that a lot of hard work was put into making this first season, and it shows in nearly every aspect of it. Though the perspective camera work is a bit rough at first, it definitely gets better and isn't noticeable at all in later episodes. Similarly, the lighting is realistically dark in many scenes, which was hard to perfect at first, but again, it greatly improves as it goes on. Other than the poorly animated opening sequence that has a great idea behind it, there are no other problems to point out in this nearly flawless production. The sets, locations, and props feel very realistic and authentic as the series creators demonstrate a clear commitment to looking at the characters in accurate cultural contexts. Video quality is crisp throughout, and audio quality is seamless, including a very engaging and creative soundtrack that reflects historical themes. As a whole, this production is a reflection of how this series is a much-needed breath of fresh air in the industry, and thankfully, the positive qualities didn't stop with just this section.
Plot and Storyline Quality (3 points)
It would've been very easy to spend all the time on making the production worthwhile after all the money and time that was invested in it, but Dallas Jenkins and company refused to settle, yet the storyline is a major reason why this series will transform Christian culture and even reach outside the church. The reason why it's so transformative is because it demonstrates a profound understanding of the real people who encountered Jesus and portrays them in very accessible, down-to-earth ways. These Bible characters are no longer "heroes of the faith"–they are imperfect people with backstories, motives, flashbacks, and personality tendencies just like us. Not only do they feel like everyday people, but the writers also wisely chose to focus on them in their cultural contexts as a heavy emphasis on Jewish tradition is subtly explored. The use of flashbacks to build character motive and backstory is also highly effective in helping us understand where they're coming from and why they do what they do; this is often a missing ingredient in most depictions of Bible characters. Besides the characters being so well-developed, their subplots are interwoven very well as their stories realistically cross back and forth and creatively weave together to prepare for the next steps. Further, the psychological themes and artistic concepts of the series are presented in very natural ways without forcing too much on the audience while still being creative. In the end, there are many more positive aspects to highlight about this season (more than can be listed here), which is a very surprising feat in Christian entertainment. There's no doubt that this is the best Christian series season to date, and it's the first one to be inaugurated into the Hall of Fame.
Acting Quality (2.5 points)
The casting and acting of The Chosen show a commitment to cultural authenticity in more ways than one…where a fully cultural cast member couldn't be used, correct accents were taught and coached, which adopted a model similar to the one used in Nativity Story. No matter what, dedication to effective coaching is evident as the cast members showcase subtle talent in their line delivery and emotional portrayals. While there are some minor costuming issues, it's nothing much to write home about, and we can't wait see how these recurring cast members will continue to shine in future seasons.
Continuity Quality (3 points)
Never before have we seen a Christian series (other than some parts of A.D.) that actually tries hard to interweave its subplots in ways that make them cross at appropriate times and keep the audience engaged in what may happen next. These are actually storylines you want to follow as the character arcs bend at realistic times and flow dynamically into each other. While it can be difficult to interest a Christian audience with familiar Biblical accounts, The Chosen sets up great backstories for well-known stories and provides great reasons for why things happen the way they do. In the end, there's no question that this is the best Christian season to date.
Conclusion
Hence, The Chosen, Season 1 wins two x-factor points for re-watchability and for presenting important content in very audience-friendly ways. Dallas Jenkins and his team have established themselves as the future of Christian small screen entertainment, so your support of VidAngel is greatly appreciated (go to the link to watch the first season)! The more we support Christian entertainment that's actually worthwhile and worthy of promoting to the people we know, the more likely it is we will see a real change in both the field and the culture as a whole. If you've already supported this first season, make sure to tell a friend that it's well worth their time and money. We expect great things from this crew in the coming days.
Final Rating: 13 out of 14 points